The Budpaest Cafe Orchestra is a music-driven phenomenon, a specialist performance-entertainment outfit, certified to enthral audiences everywhere. The infectious energy of the Budapest Cafe Orchestra will sweep you off your feet and stay in your heart forever. You will journey from one emotional pole to another: from a desperately tragic evocative heart-rending ancient Jewish melody to a dance from Romania or Russia and all the fiery exuberance that goes with it.
The Budapest Cafe Orchestra share as many blood cells with the folk of Hungary as the Penguin Cafe Orchestra do with the web-footed fellows of Antarctica. Their Magic Potion is a closely guarded recipe of malt, hops, yeast and water, handed down in the secret tongue of Estuary English through generations of Professional Gypsies. With a sole mission: to entertain and enchant audiences, they are undaunted by even the most demanding and wildest crowds, for example those inhabiting the darkest corners of South Wales.
The members of the Orchestra
The best spoken professional gypsies West of the Danube…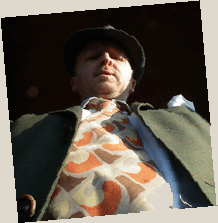 Balkan Bob (violin, doumbek) Brain cell behind the resurrection of the Orchestra. A single whiff of paprika was all it took to revive the old penchant for a bit of   badly made goulash and a dusty village hall. The principle violinist of the Orchestra also dabbles in darbuka, an ancient instrument of Arabic, Assyrian and Persian origin, believed to have been invented before the chair. Peddler of finest racing hair tricks and freshly harvested chillies. Would be Happiest with a pint of Magg's Magnificent Mild and a lifting of the blanket smoking ban.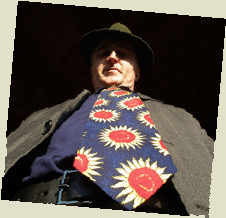 The Dragon (button accordion) Former supreme accordion champ of GB and accompanist of choice to none other than Pavarotti. Slave only to bakewell tarts, Battenberg cake & Man U, the Dragon is otherwise in full charge of his formidable facility on the most ridiculous of instruments. Highly regarded for his rendition of the Captain Pugwash theme.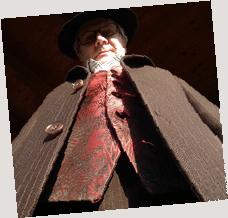 Kelvin the Klaw (big daddy violin) An original & founding member of the BCO, Kelvin is a true Hemel Hempstead gyspy and is to be found herding goats there. His double bass is made from bits of timber from old goat sheds. He only performs with a portrait of the Queen behind him. Kelvin maintains his conviction that Ferraris are modelled on his old mark II red cavalier.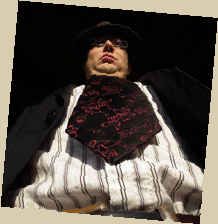 The Sultan (saz, guitar, balalaika) Has a vaguely legitimate yet entirely spurious claim to true Gypsy status having, as he does, a modicum of actual Russian blood in a small vial on his living room shelf. A native of Overton in Hampshire he knits his own underwear and is a regular on Talk Radio's Phone-ins.
Book a table for pre-concert dining
Acapela Studio provides pre-concert dining between 6.00pm and 7.30pm from our wood burning pizza oven. To view the current menu visit here.
Please purchase your concert tickets first before booking a table. We will not accept any table bookings that do not have a corresponding ticket purchase.
Then return to the event page to book your table, by selecting the date of your event, number of diners and time you require table. The times shown are the only vacancies left.  Please complete your email and phone number as this is required to ensure your table is allocated. You will receive confirmation of your booking by email and text.
If on the date you have chosen no tables are available - no times will be shown and the booking system will revert you back to todays date - PLEASE ENSURE YOU BOOK THE CORRECT DATE!
PLEASE NOTE THE VENUE RELIES ON THE INCOME FROM DINING TO ENSURE WE CAN BOOK ALL THE GREAT ACTS PERFORMING.
Income from the provision of pizzas is very important to the venue and if you have booked a table it is a requirement that all people sat at tables order food - a salad alternative is available to pizzas. Please do ensure that all individuals will be ordering on your table - if  this is not the case please cancel your table so others who are looking to dine can do so. Our apologies to raise this but recently we have had many tables (some very large) where less than 50% of those sat at tables have ordered food. Financially this is a real problem to the sustainability of the venue. 
All seating at tables must purchase a pizza - so please do not book a table if everyone is not eating.
Please ensure that you arrive 10 minutes before the time slot allocated to order your pizzas prior to your booking time.
Tables not seated within 15 minutes of the allocated time may be lost and allocated to other audience members wishing to order pizzas.
If you wish to book a table for 6 or more please email info@acapela.co.uk
Please note that all of our pizzas are made fresh to order and cooked in an authentic wood-fired oven. It may take up to 45 minutes to be served during busy periods.
IF YOU ARE UNABLE TO BOOK A TABLE YOU CAN STILL ORDER PIZZAS ON THE NIGHT (USUALLY ON BUSY NIGHTS NO LATER THAN  7.15PM) AND WE WILL SERVE THEM TO YOU WHEREVER YOU ARE SAT IN THE VENUE - IN A PIZZA BOX.